History of the Tulsa Pipe Liners Club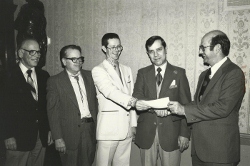 Formed in 1947 by a small group of industry people, the Pipe Liners Club of Tulsa began conducting meetings in 1948 at various locations around the city. The first elected officers were: J.L. Cahill, President, Continental Pipe Line Co., P.L. Reichard, Vice President, J.D. Jones, Secretary, both of Gulf Refining Co., and F.C. Whiteside, Treasurer, with Interstate Oil Pipe Line Co. There were four directors, F.V. Cook, G.P. Jennings, Samuel C. Phelps and J.F. Nickel.
There were six presentations given during the meetings in 1948 which included Control Valves, by John E. Green, a movie, Electricity and Oil Industry, Electrical Equipment for Pipe Lines, by General Electric, Diesel Engine Supercharging by Fay Cook, Aluminum Pipe in Crude Oil Service by Francis Coryell and Pipe Line Communications by Little.
The Scholarship Committee first began in November 1955 with a letter to R.L. Langenheim, Dean of Engineering at the University of Tulsa, offering a scholarship in the amount of $350.00 for the 1956-57 school years, to the University of Tulsa College of Petroleum Sciences and Engineering. The first year committee members were J.D. Jones, T.S. Llewellyn and H.T. Chilton, chairman.
The first scholarship was awarded in 1956 to James E. Kiefer, from Wichita, KS. His application included a transcript with straight A's in engineering. There were two other applicants for the scholarship, Donald H. Stares and Robert A. Wattenbarger, and both Tulsa High School graduates.
Notable milestones are noted below:
By 1968, membership had grown to 346 members.
April 1970 saw the first copy of the Articles of Organization for the club.
The First Annual Invitational Golf Tournament was held in 1974 at the Shangri-la resort.
In 1982 the first printed directory of membership was developed. That same year a check of $1,000.00 was provided to Oklahoma State Tech, Okmulgee, OK for their scholarship fund.
In the early-80's, monthly meetings began being held in the Petroleum Club, downtown Tulsa.
In 1989 The Pipe Liners Club of Tulsa celebrated its 40th year with Mayor Rodger Randle by designating it the Pipe Liners Club of Tulsa week. "Now, Therefore, be it resolved that I, Rodger A. Randle, Mayor of the City of Tulsa, do here by proclaim the week of January 22, 1989 through January 28, 1989 as THE PIPE LINERS CLUB OF TULSA WEEK In the City of Tulsa, in recognition of the outstanding contributions made by this organization."
Fundraising Sporting Clay Tournaments were added in 2006.
In 2011, the Young Professionals (YP) was created to promote the club to the incoming generation and those new to the industry.
Membership has grown dramatically over the past few years to over 600. We now award more than $150,000.00 annually in scholarships, funded by the club fundraising events. These events are the annual directory ad sales, monthly meetings, the annual Christmas Party, spring and fall golf tournaments, and the spring and fall sporting clay tournaments.
Site Sponsor
The club website proudly sponsored by Tulsa Rig Iron
---
The Pipe Liners Club of Tulsa is dedicated to the advancement of pipeline engineering, maintenance, and operating practices for the benefit of members and the industry.
Here you can view upcoming events, create or update profile information, reserve your place for an event or dinner, and make payments.
---
---
Member Login
---
Upcoming Events
| | |
| --- | --- |
| Sep 16 | 2023-2024 Meeting and Event Dates (more...) |
| Jan 19 | Membership Details Video (more...) |
| Jul 1 - Aug 31 | 2023 Christmas Gala Pre Event Sales (more...) |
| Jul 21 - Sep 30 | 2023 Big Bass Classic - Sponsorship (more...) |
| Aug 7 - Sep 30 | 9th Annual 2023 Pipe Liner's Big Bass Classic! (more...) |
| Aug 18 - Oct 9 | 2023 Fall Scholarship Golf Tournament (more...) |
| Sep 22 | 2023 Fall Scholarship Sporting Clay Shoot (more...) |
| Oct 16 - 17 | October 2023 Monthly Meeting (more...) |
| Oct 18 | OKTOBERFEST Corporate Night - PYPT - OCTOBER 18th, 2023 (more...) |